Social Media Editorial System
When various users have to edit different content, the so called Editorial systems can be applied. What has been enforced for Blogs and Content-sites, you can also use it for the Social sites such as Twitter, Facebook, WordPress or other services. With the azobit's Social Media Editorial System, you and your colleagues will always have all channels under control and will be able to manage and edit them easily. This saves a great deal of effort, so that you can invest your time in what's more important – good content.
Online Marketing Management made easy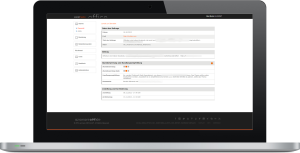 On one hand, to generate a wider reach – a broad mix of social media channels is good and important. But on the other hand, use of numerous tools and accounts can also become very confusing in terms of login details.
azobits Editorial System makes management and targeted work with all the marketing channels easier. You can for example, create content for Facebook and Twitter and transmit these to different departments, agencies and branches for publishing. Personal contributions are also easily published on different social networks with our Social Media Editorial System, directly or set for another date. As well as presss embargo periods can be established for specific posts and channels.
Editorial system with return path
No matter if it´s likes, comments or messages: azobit´s Editorial System will show you, thanks to a backchannel for showing all key facts from the social web in one look. The Social Media Office serves as a central management point from where you can react to everything in a targeted way. A special advantage of the tool is the central management of all social media accounts. In this way you don´t have to log in and out all the time- saves time and nerves.
Test today our Social Media Editorial!
Further Modules in Social Media Office:
Social Media Editorial CMS
Blog for your Company
Advantages of our Social Media Editorial System
Easy to operate User-Rights-Management with different roles (Admin and editor with read- and write permission)
Effective work with all social channels for your marketing department
Perfect interface for agencies, companies and external providers to assign and release content
All editorial content is saved in compliance with data protection rules
Organization of social media content with a detailed theme plan
Targeted share of posts and contributions for different social media channels
Theme pool with expiry dates and retention period management
Release processes are individually definable after the 2- or 4 man rule
Protection by content change through revision security